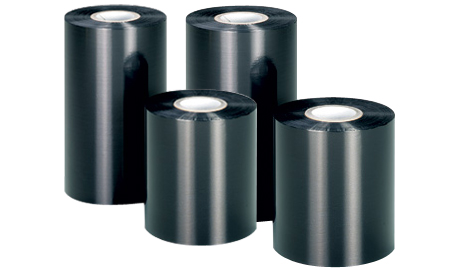 Zebra Thermal Transfer Ribbons Manufacturer in India
Thermal transfer ribbons are classified in three categories: Wax, Wax/Resin and Resin. Each type has a range of subtypes like Economy and Premium Ribbons. Indian Barcode Corporation is the biggest manufacturer of Zebra Thermal Transfer Ribbons in India. Thermal Transfer Printing is done with two types of print heads Flat-Type print heads and Near Edge (True Edge, Corner Edge) print heads. Ribbons used for these two thermal transfer printing technologies are different though the types may be the same.
Zebra Thermal Transfer Ribbons Wax
The least expensive of all thermal transfer ribbons. Wax ribbons have a high percentage of wax based substance in the colourant. Most wax ribbons are made with a single colourant layer. Since waxes have lower melting points than resin substances, printing can be done at lower heat settings or energy levels. Wax ribbons are suitable for printing on uncoated or matte coated surfaces.
Zebra Thermal Transfer Ribbons Wax/Resin
Wax/Resin Ribbons are a combination of wax and resin based colourant substances in which resin substances hold a greater percentage. Wax/Resin Ribbons are made of two or more layers. Resin substances have a higher melting point thus increasing the melting point of the ribbon. Wax/Resin Ribbons can be used with glossy or smooth surfaces, synthetic materials. Printing speeds of 16 inches per second can be achieved with Wax/Resin Ribbons. Wax / Resin ribbons can be used for all purposes where wax ribbons are used but where there is a chance of abrasion or scratch due to contact. Wax/Resin ribbons are slightly expensive then wax ribbons.
Zebra Thermal Transfer Ribbons Resin
Resin Ribbons contain the highest percentage of resin materials. Printing with resin ribbons is done at high energy levels or heat settings as resins have a high melting point. Low print speeds can be achieved due to the high energy levels required for printing. Resin Ribbons are best suited for use with textile apparel or garment labels like (taffeta/satin), high gloss coated materials like polyesters, polyolefin, destructible vinyl, warranty void labels, labels which are to be exposed to harsh environments like chemical drum labels, medical and pharmaceutical labelling, as well as industrial and automotive applications. Resin ribbons are the most expensive of thermal transfer ribbons.
Zebra Thermal Transfer Ribbons Printing
Labels can be printed using several differing printing technologies. However, one of the most popular methods is called thermal transfer printing which uses roll-form labels and printing ribbons. This technology requires lower heat settings to transfer a printed image than some printing methods such as a laser toner process. For this reason, you have the widest variety of paper and film label materials at your disposal, including an extensive choice of label adhesives to fit special labelling applications.
Indian Barcode Corporation Manufacturer of Thermal Transfer Ribbons for Zebra Barcode Printers, Argox Labels printers, Godex barcode printers, Citizen barcode printers. For any query and suggestion regarding Thermal Transfer Ribbons call us on +91-9717122688 or write us at gm@indianbarcode.com
You can also purchase online from http://www.indianbarcode.in
For any query contact us:-
Indian Barcode Corporation.
S-4, Plot No. – 7, Pok-7, Pankaj Plaza, Sector-12, Dwarka,
New Delhi- 110078, India
Phone No. – +91-011-28032434/ +91-9717122688
Email Id: gm@indianbarcode.com
Visit us at: http://www.indianbarcode.com